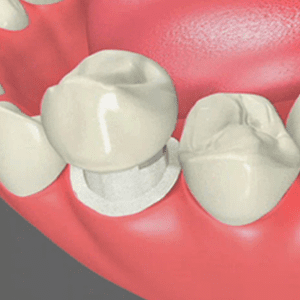 Your smile improves the overall aesthetic quality of your face. A shining smile goes a long way in enhancing your appearance and confidence. According to surveys, most American adults give top priority to their smiles to improve their overall appearance. While perfectly aligned beautiful teeth are what most everyone desires, chipped or broken teeth, discoloration and other blemishes of teeth can be bothersome.
The simple answer to such problems is a dental crown
What are dental crowns?
Dental crowns are also called "caps," and are used to enhance the appearance of a tooth cosmetically or restore functionality of teeth that have been damaged. Broken, cracked or decaying teeth can be protected and their functionality restored with a dental crown. Dental crowns are also used when you have a root canal or a big filling in a tooth.
A custom-made material is used to encase the damaged tooth. If you wish to know more about the dental crown procedure, schedule a consultation at the Smile Dental Practice. Our leading dentist in Glendale, with extensive experience in full mouth restorations and procedures including dental crowns, is a top provider of all dental services.
There are many different materials that are used for dental crowns. We will advise you on the material or combination of materials best suitable for your dental crown.
What materials can be used for crowns?
Zirconia: This type of crown is made from zirconia, a very strong material which is compatible with the human body. Zirconia is known for its strength and durability. It is a type of crystal which is long lasting and indestructible. There is no fear about the body rejecting zirconia or displaying an allergic reaction to it. It is safe to use and preferred by many people to other forms of crowns.
Porcelain: Although not as strong as zirconia, porcelain looks very natural. Porcelain can be sculpted to closely match the look of natural teeth, while providing desirable strength and resilience. Porcelain crowns are an excellent choice when recreating the form and function of a tooth.
Composites: Composites are stronger than porcelain, but regular brushing can wear off the surface of composites, as does chewing.
The procedure
During the initial consultation, we will evaluate your dental and overall medical history. You can also clear up any doubts and concerns that you may have regarding dental crowns. After the evaluation, we will advise you on the best type of dental crown most suitable for you.
The procedure begins with the filing of the tooth that needs the crown. A layer of the tooth is removed to help make an impression of the tooth. If there is severe damage to the tooth, we may fill it first before a crown can be fitted. A molded impression of your tooth is then taken and sent to the lab for preparation of the crown. You may be fitted with a temporary crown until the time the permanent dental crown is ready. Once the permanent crown is ready, you will be fitted with it, during your second visit. An adhesive bonding or cement is usually used to fix the dental crown.
The latest CAD/CAM technology may also be used, which takes a 3D image of the tooth, and the ceramic crown is drilled with the help of computer-aided design and manufacturing technology. When this is used, there is no need for a second visit.
Follow-up care instructions
Dr. Haghverdian firmly believes in providing completely customized, individual care while performing all procedures. The entire team at Smile Dental Practice are focused on providing the best quality of service, based on best practices with utmost attention to patient safety.
Follow-up care procedures after a dental crown restoration will be explained to you in detail. Oral hygiene routines including regular brushing, flossing and the use of interdental cleaners that reach in-between teeth are recommended to prevent plaque build-up and other infections.
You may also be given instructions on what kind of a diet to follow, including avoiding hard foods that involve a lot of chewing or foods that are too cold or hot. Grinding your teeth or chewing nails are other habits that can damage the dental crown and your doctor will advise you of these. If you grind your teeth during your sleep, a mouth guard may be given to protect your new dental crown. Regular follow up with your doctor can help prevent further damage and help maintain the health of gums and teeth.
Getting a tooth makeover is now easy! Visit Smile Dental Practice in Glendale to learn more about dental crowns and other tooth restoration procedures. Schedule a consultation now or feel free to give us a call.