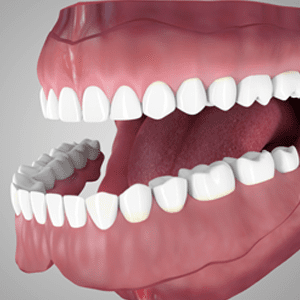 Partial or full dentures can help restore the functionality of missing teeth and restore your confidence in your smile. Partial dentures replace some missing teeth while you still have some natural teeth. Full dentures replace all of the teeth in either arch or both.
Age, dental decay, trauma to the teeth in an accident or a health condition can all necessitate the removal of teeth. All or some of the teeth could be removed. As part of the aging process, some teeth naturally fall out.
Dentures are removable false teeth that are fit in to replace lost teeth. The replacement can be partial or full, depending on the extent of lost teeth. Dentures also cover wide gaps between teeth that can have serious health consequences in terms of infections, gum disease, and plaque build-up.
If you are looking for more information on dentures and how they might benefit you, schedule a consultation at Smile Dental Practice. With over 21 years of extensive experience in full mouth restorations and hundreds of successful procedures including dentures, we combine the warmth of personal connection with each patient with cutting-edge technology to offer the best quality dental service in Glendale.
Types of dentures
There are different types of dentures that are available to suit individual needs.
Conventional full dentures
With this type of full denture, all teeth are removed and gum tissues are allowed to heal. The healing process may go on for a few months and no temporary dentures are fitted during this time. Conventional full dentures need you to be without teeth for a considerable amount of time. Once the gum tissues are healed, the full dentures are placed in the mouth.
Immediate full dentures
In this procedure, full dentures are placed as soon as teeth are removed. A model of your jaw will have been taken at a prior visit to custom-make the false teeth which are fitted at the time the teeth are removed. The teeth may need to be realigned during follow-up visits as the bone structure supporting the teeth tend to reshape gradually. Generally, the conventional full dentures are ready to be placed after eight to twelve weeks from the time the original teeth are removed.
Partial dentures
Partial dentures are also removable and can be offered in place of bridges to replace missing teeth. The dentures are placed on a framework made of metal, plastic or nylon and attached to natural teeth. The partial dentures are fit onto natural teeth using clasps that are easy to remove.
The denture procedure
At Smile Dental Practice, the focus is on making every patient feel completely relaxed and at home. Television sets and music systems placed in every room, help you enjoy your favorite entertainment while the procedure is carried out in a painless manner. The ultra-modern luxurious atmosphere make you feel very comfortable right from the onset. The team at Smile Dental Practice are highly trained and adept in assisting you with every need before, during, and after the treatment.
To properly fit dentures, we will evaluate your dental history and overall medical health to determine the best possible course of treatment. At Smile Dental Practice we have developed the highest possible standards of care, based on the latest research while also focusing on the latest technology.
After discussing treatment options and the type of dentures most suitable for you, the doctor will then take impressions of the jaw. Models are made from wax or plastic and fitted to you to help the doctor understand if adjustments in shape, width or length are needed. The final impressions are then made to cast the dentures.
Post denture treatment
Our dental professionals will discuss, in depth, the entire course of treatment including what to expect before, during, and after the procedure. Pain medications, if necessary, will be used to ensure you do not experience any severe pain. Some discomfort may be common after dentures are placed and you will get used to this in time.
We will also advise you on the kind of foods that you need to eat following the placement of the dentures to help you get used to them. Initially, soft foods that are small in size and easy to chew will be advised, so as not to place any stress on the dentures. You can return to normal foods once you get completely used to the dentures. Certain precautions including avoiding chewing gum, tobacco, and extremely sticky foods will also be advised by the doctor.
Initially, you may need to wear the dentures throughout the day to help make any minor adjustments. We will recommend how long you need to wear your dentures after the adjustments are made. You can remove the dentures before bedtime, as instructed by the doctor.
Cleaning your dentures
We will provide you with detailed instructions on how to clean the dentures. Generally, they have to be cleaned by brushing, soaking and again brushing. An effervescent cleaning agent will help remove any food stains on the dentures.
To learn more about dentures, schedule an appointment today. You may call us or email us to book a consultation.