Dental Sealants in Glendale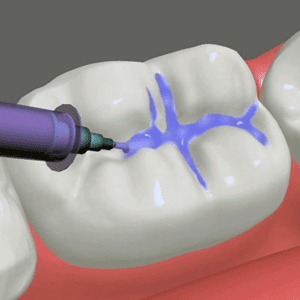 Do you brush and floss your teeth twice daily and still end up visiting the dentist for cavities? Well, a dental 'sealant' is what may help you keep your teeth healthier. Cavities are even more common in the back teeth (or molars) that are used for chewing food. Molars are uneven and rough and can easily invite bacteria and leftover food to hide in them.
What are dental sealants?
Dental sealants are a type of thin coating, made of plastic, that are painted on your teeth's chewing surfaces. They are usually applied on the molars and premolars and help stop tooth decay from occurring. Sealants are quick to get bonded into the grooves and depressions of your teeth and form a safety shield over each tooth enamel.
At Smile Dental Practice, we have extensive experience in dental treatments with sealants. This can be a successful treatment option if your teeth are prone to constant cavities and tooth decay. While they are not a substitute for flossing and brushing, sealants can prevent the formation of cavities and might even help avoid early decay from developing into a proper cavity..
How are dental sealants applied?
The application of sealants is a straightforward, painless, and fast process. It starts with the cleaning and drying of the tooth and is followed by the placement of an acid-based gel on it. The gel helps in roughening the surface of the tooth so that a solid bond can be formed between the sealant and the tooth.
The gel is then washed off and the tooth is allowed to dry. The sealant is then applied onto the hollows of the tooth and a blue curing light is used for hardening the sealant.
If you would like to get treatment with dental sealants, schedule your consultation today at Smile Dental Practice in Glendale.
We're here to help our patients achieve their dental goals and dream smile. Contact our office today to schedule your next dental visit at our Glendale Dentist office.