Five Smile Blemishes That Could Be Corrected by Invisalign Which You Were Unaware Of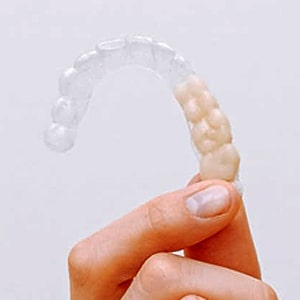 Invisalign treatments are on the rise. Do you know the reason? Well, Invisalign helps in correcting numerous smile flaws, just like the braces. But the best part is, Invisalign is more comfortable, almost invisible, and convenient to use. Moreover, our dentist is a premier Invisalign provider in Glendale. Isn't it amazing?
If you want to know what flaws it can fix in your smile, read along.
5 Smile Flaws You Can Fix Using Invisalign Treatment in Glendale:
1. Open Bites:

If some sections of your teeth are not meeting, it's known as open bites. It can affect your speech and certainly your smile. But with Invisalign treatment, you can easily realign your teeth back to position.

2. Overcrowding or/and Gaps:

If there's a gap in your teeth, the food can get stuck. It can also become the reason behind gum diseases. And in case there's crowding, you won't be able to brush appropriately, leading to tooth decay. And you don't want it to occur. So, to make sure, you can opt for Invisalign Treatment in Glendale.

3. Overbites:

Overbite is a common issue. It happens when the upper set of teeth overlap your lower set of teeth while biting. To some extent, it's normal, but the overlap is too much; it can be a problem. And if something similar comes about, you can get it rectified with Invisalign treatment.

4. Underbites:

When the upper teeth overlap/protrude over the lower ones, it's an overbite. Underbite is the vice-versa of overbite. Underbite affects your speech and can be problematic when it comes to chewing. If your underbite is severe, you may have to opt for surgery. And Invisalign treatment in Glendale will help you with the realignment after the surgery.

5. Cross Bites:

In a normal scenario, your upper teeth rest a little past your lower teeth. However, in some cases, the opposite happens, which is termed as crossbites. It can make your smile look awkward and might even chip your teeth. And as you guessed already, it can be treated with Invisalign treatment.
Who Can Help You With Invisalign Treatments in Glendale?
If you're looking for an experienced professional, reach out to Dr. Edik Haghverdian at Smile Dental Practice. Dr. Edik Haghverdian has been practicing in the dental field for more than two decades. And during his practice, he has managed hundreds of successful mouth restorations.
You can trust Dr. Edik Haghverdian. Also, he can help you with: -
Bridges.
Crowns.
Dentures.
Veneers.
Smile Makeover.
General Dentistry.
Emergency Dentistry.
Conclusion:
For more information about Invisalign treatment in Glendale call us at (818) 500-7740 and schedule an appointment today.
---
---