How choose a general dentist?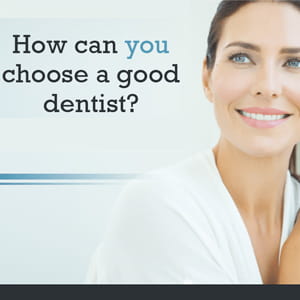 Your smile plays a big role in making first impressions, so you should do whatever it takes to preserve healthy teeth. A good choice of dentist is key to maintaining that smile, but how do you know you are going to the right dentist? Whether you are looking for a dentist for the first time or you have just relocated and are in need of a new dentist, finding a great one just requires a little research and a preliminary visit.
Ask people you know for a recommendation. Friends, family, co-workers, and neighbors are great resources when you need to find a service care provider. You might also ask your doctor or pharmacist.
Good questions to ask include: What they like about the dentist and/or office? Is there anything they don't like about it?
Ask how long they typically wait, and how available the dentist is for questions or emergencies.
Look online. Find a dentist near you who is a member of the American Dental Association by visiting their website. You can also find dentists through the online yellow pages and other advertising sites.
Be wary of any advertising that claims a dentist's service is "superior" to others'. This is considered unethical in most states.
Call a health care organization for a referral. Your health insurance provider can likely provide a list of dentists participating in their coverage. You can also call faculty members at a dental school if there is one near you, or a local hospital to see if they have an accredited dental service.
You can also call the Academy of General Dentistry's referral line - Call your state dental society and ask for a list of recommendations. These associations can provide a list of ADA member dentists.
Make sure they take your health care plan. If you have dental insurance, be sure to ask any prospective dentists if they accept your plan. Many smaller companies have a limited number of participating dentists, and dental work can be extremely expensive.
Decide if you require a particular specialization. Dentists can also get certified by state boards to specialize in certain areas after completing at least two years of advanced schooling. If you know you need a certain type of work done or are looking for a dentist for your child
Check with the state dental board. Each state has an online registry on which you can track any history of claims made against a dentist practicing in that state
Be wary of dentists with cases brought against them for misconduct or patient dissatisfaction. Schedule a consultation and ask about our general practices.
---
---