What kind of training does a dentist go through?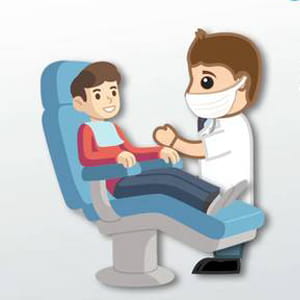 Dentists care for the comprehensive dental care of our patients, including teeth, gums, salivary glands. People come to dentists to have their teeth cleaned or to find the cause of tooth or gum pain. A dentist may fill cavities in teeth, perform recommended surgeries to repair or remove teeth, and fit, design, and place dental appliances like implants or dentures. Providing oral health care also involves taking X-rays, applying anesthetics, and writing prescriptions. Dentists may practice general dentistry or choose a specialty like oral surgery, orthodontics, pediatric dentistry, or public health.
What kind of training is required to become a dentist?
Dentists receive their training in graduate school, typically through a Doctor of Dental Surgery (DDS) or Doctor of Dental Medicine (DMD) program. DDS and DMD programs have no distinguishing differences; both provide the same level of preparation. Applicants to dental school should have high grades in prerequisite courses like biology, inorganic and organic chemistry, physics, and biochemistry. Dental schools also look for applicants with high scores on the Dental Admissions Test.
Students in DDS and DMD programs take courses in topics like dental anatomy, physiology, pathology, molecular biology, oral microbiology, neuroscience, radiology, pharmacology, and dental anesthesiology. Students also learn about the different facets of the dental practice, like periodontics, orthodontics, endodontics, geriatric and pediatric dentistry, prosthodontics, and oral surgery. Dental programs also focus on how to manage a practice and work with different kinds of patients.
Throughout their program, dental students complete clinical clerkships and rotations that allow them to observe dentists and work with actual patients putting their learning into practice.
How long does it take to become a dentist?
Dental school takes four years to complete a full-time status. So those who complete a bachelor's degree first will be in school for eight years. Those who do not finish a bachelor's degree first or who complete a combined bachelor's and doctoral degree program may take less time to finish their schooling. Once a dentist graduates and earns a state license, he or she may begin to see patients.
Finding a Good Dentist in Glendale, California
If you're looking for a good dentist in Glendale, you've come to the right place.
Smile Dental Practice is top dentistry in Glendale and the surrounding areas. Contact us today to schedule an appointment for clean teeth and a great smile.
---
---