How Long Does Invisalign Treatments in Glendale Take to Straighten Teeth?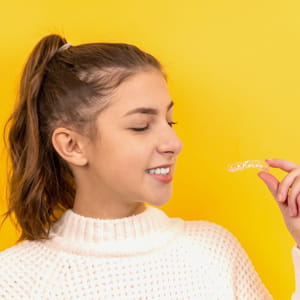 If you want to align your teeth and do not want to resort to metal braces, Invisalign is the alternate solution to straighten your teeth. In our previous blog we have explained about 5 smile flaws you can fix using Invisalign treatments in Glendale. However, if you want to discover the span of time consumed by Invisalign to align your teeth properly, read on.
If you are heading for Invisalign Treatments in Glendale, then make sure you appoint only a reputed dental specialist to avoid any complications. Dr. Edik Haghverdian at Smile Dental Practice, is a popular name in Glendale.
When Do You Need Invisalign?
Invisalign can be affixed for both teens and adults at Dental office in Glendale. If you are bothered about misaligned or crooked teeth, then you are the ideal candidate for Invisalign. Invisalign can help you correct the different dental issues like overbite, gaps in teeth, crossbite etc.
How Long Do You Wear the Invisalign Usually?
Every case is different and the duration of the Invisalign also depends on what sort of issue you have. Invisalign treatments in Glendale can take up to 9 to 15 years of time and you might need to wear it until then. Make an appointment with Dr. Edik Haghverdian at Smile Dental Practice. He has the right team to guide you.
How Long Does It Take To Straighten Your Teeth?
Duration for Crowded Teeth:

Duration to straighten teeth using Invisalign varies person to person. The Invisalign treatment duration will depend on the intensity of the issue. In case of slightly crowded teeth, it may take 6-8 months for the Invisalign to correct the alignment. In case of crowded teeth, your dentist might recommend the extraction of some teeth. With a headgear, the severity of crowded teeth can be managed to allow for the right spacing. A Glendale dentist will be able to help you regarding the right duration of wearing Invisalign for your crowded teeth.

Duration for Adults Vs Kids:

Duration for Invisalign will depend on what's the condition of your teeth. Teenagers usually take longer time for Invisalign than adults.

Duration for Gapped Teeth:

If you have a gap in your teeth, the duration of the time for Invisalign could differ drastically. Only a couple of weeks are required to bridge the minor gaps. For bigger gaps, the duration will be longer. The duration depends on how well you maintain the Invisalign. Keep wearing retainers after the gaps are fixed, else you might end up revisiting the Saturday dentist in Glendale for Invisalign. The duration to straighten your teeth might be longer than expected.
Conclusion:
If you are looking for Invisalign treatments in Glendale to uplift your smile, consider Dr. Edik Haghverdian at Smile Dental Practice. For more information visit our website or call us at 818-500-7740 and schedule an appointment today.
---
---