Can You Go for Teeth Whitening While Wearing Invisalign in Glendale?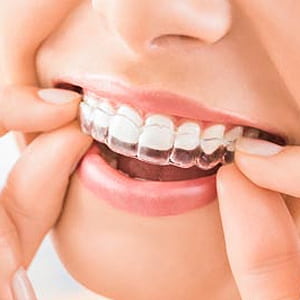 We all long for that beautiful, bright smile, don't we? Well, we do know that the road to a beautiful and healthy smile requires you to put in a lot of work. For those of you who have undergone Invisalign, it can feel like an additional task! In our previous blog, we have explained how long does Invisalign treatments in Glendale take to straighten your teeth? However, if you are looking for the right place to get dental treatments such as teeth whitening or Invisalign treatments, visit Smile Dental Practice in Glendale, California and get the smile of your dreams today.
Teeth Whitening in Glendale After Getting Invisalign:
You might now ask me, "is whitening the teeth while undergoing Invisalign Treatment possible"? The answer to that is Yes! You can easily undertake a treatment called teeth whitening. By the end of this article, you'll know all essential details regarding whitening the teeth while already having Invisalign clear aligners.
Invisalign Treatments in Glendale:
Whether it is traditional braces or Invisalign clear aligners, it always takes additional time to make sure your teeth remain squeaky clean and white. Since Invisalign aligners are clear braces most of those who have undergone Invisalign treatments in Glendale must take extra care in making sure their teeth are clean and bright white, or else they might have a yellow shade.
When To Begin Teeth Whitening After Getting Invisalign Aligners?
If you have started to decide on whether you should whiten your teeth while having Invisalign clear aligners, it's important to begin the process of teeth whitening in Glendale, you must start the process only six months after the realignment has been completed.
Milder Forms of Teeth Whitening Is Advised:
It is always advised by dentists that while wearing Invisalign aligners, you can start with pursuing milder forms of teeth whitening treatments such as mouthwash, toothpaste or even whitening strips. Most individuals even use whitening gels that are prescribed by their dentists, it can either be used at the dental office in Glendale or in-house.
Teeth Whitening Trays:
On the other hand, there are tooth whitening trays that are different to your Invisalign clear aligners. However, you must remember that the tooth whitening trays are different to the clear aligners, where the Invisalign clear aligners are fitted closer to the teeth, unlike the teeth whitening trays.
The Perfect Time for Teeth Whitening in Glendale:
Even though you can simply whiten your teeth with the help of gels, toothpaste and strips, most dental professional's advice that you must begin your teeth whitening in Glendale only after your teeth are completely aligned.
Conclusion:
If you have Invisalign clear aligners and you want to whiten your teeth or looking for teeth whitening in Glendale, visit Smile Dental Practice. Dr. Edik Haghverdian at Smile Dental Practice will guide you by resolving your doubts and providing you a professional teeth whitening treatment. For more information call us at 818-500-7740 to gather more information.
---
---